Quarter Century Amateur Radio Club / Whitecourt Amateur Radio

Membership dues and donations support these QCARC WCAR owned repeaters:
VE6QCR 146.640 Stony Plain--VE6BOX 146.730 Athabasca--VE6PP 146.820 Whitecourt--VE6SS 146.880 Pigeon Lake All have 100Hz tone and offsets are all -600 KHz
Weekly Newsletter and Swap & Shop Listing 2/1/2023 by Paul, VE6UFO
QCARC MEMBERSHIP RENEWALS

Membership renewal notices will continue to be sent out

to those members whose memberships are due to expire soon. Thanks to all that have renewed and good luck in the Early Bird draw for 250.00 to take place in April at the AGM.
QCARC SPRING SOCIAL& FLEA MARKET
AT CANORA COMMUNITY HALL 10425-152 STREET EDMONTON, AB

SATURDAY APRIL 22, 2023 9AM - NOON
VENDOR SETUP AT 8AM

FREE ADMISSION FREE REFRESHMENTS FREE FLEA MARKET TABLES 50/50 DRAW AT NOON

TABLES MUST BE BOOKED IN ADVANCE mail@qcarc.net or call/text PAUL, VE6UFO 780-232-7012
QCARC 2023 AGM SATURDAY APRIL 22 AT 1PM FOLLOWING THE FLEA MARKET

IF YOU HAVE ITEMS TO DONATE FOR THE CLUB TO SELL CONTACT VE6UFO 780-232-7012 or mail@qcarc.net

ALL QCARC MEMBERS RENEWED FOR THE FOLLOWING YEAR OR BEYOND BY MARCH 31 HAVE A CHANCE TO WIN $250.00
QCARC Membership Form

THE QUARTER CENTURY CENTURY AMATEUR RADIO CLUB IS HAPPY TO ANNOUNCE THE OFFICIAL FORMATION OF A NEW SUBSIDIARY BRANCH OF QCARC CALLED WHITECOURT AMATEUR RADIO. THIS GREAT GROUP OF AMATEURS IN THE WHITECOURT AREA HAS HAD A REPEATER AND WEBSITE WCAR.CA FOR A FEW YEARS NOW AND HAS EXPRESSED A DESIRE TO EXPAND ON THEIR ACTIVITIES AND THIS WILL HAPPEN UNDER THE UMBRELLA OF THE QCARC.

NEWSLETTER FORMAT

NEWER CONTENT APPEARS DIRECTLY BELOW AND ITEMS AFTER THE SWAP & SHOP LISTINGS ARE OLDER. IF THIS NEWSLETTER IS NEW TO YOU PLEASE READ THE WHOLE THING.
IF YOU WOULD LIKE TO BE ADDED TO THE LIST TO RECEIVE THIS NEWSLETTER WEEKLY, PLEASE EMAIL TO mail@qcarc.net
VE6UFO's WEEKLY COMMENTARY
I am ending the first month of this year on a good note. The results of my latest CT scan show that there is a slight decrease in the size of the cancer nodules which means that the treatment is still working.

SHOW AND TELL!

SHARE PICTURES OF YOUR HANDYWORK TO HELP INSPIRE OTHER HAMS TO DO SOME BUILDING. EMAIL mail@qcarc.net
NOTHING NEW THIS WEEK - WHEN THERE IS SOME NEW STUFF I WILL LET YOU KNOW AND THEN YOU CAN CLICK HERE TO GO TO THE SHOW AND TELL PAGE

IF YOU HAVE ANY ITEMS OF INTEREST LIKE PICTURES, A PERSONAL STORY OR ANYTHING ELSE THAT YOU WOULD LIKE TO ADD TO THIS WEEKLY NEWSLETTER, EMAIL mail@qcarc.net

73, Stay well and be safe. Have a good week!!
Paul VE6UFO, QCARC Secretary Treasurer and Net Manager and Newsletter Authour and Website Guy....
CURRENT ANNOUNCEMENTS
THE 3YOJ DXPEDITION STARTS OPERATING SOON FROM BOUVET ISLAND,THE MOST REMOTE UNINHABITED PLACE ON EARTH.

FOR INFORMATION GO TO Amateur Radio | 3Y0J The Bouvet Island DXpedition

THE NEXT CALGARY FLEA MARKET WILL BE SATURDAY APRIL 15, 2023 GO TO https://caraham.org/ FOR DETAILS
QCARC WILL BE THERE WITH 4 TABLES OF GOOD STUFF FOR SALE

The results of the survey conducted by RAC on callsign policy are now available – https://www.rac.ca/regulatory-advocacy/
The new VE6OG WEAK SIGNAL PROPAGATION REPORTING beacon went into service on Saturday 11/26/2022. It is part of the HB9VQQ INTERNATIONAL WSPR BEACON PROJECT and it is located in DO23ts about 60km Northwest of Edmonton, AB. The screenshot below shows typical North American coverage in addition to signals travelling over the Arctic Circle into Europe. There have also been spots into Asia, Africa and Oceania. The 200mw ZachTek transmitter and Diamond CP6 vertical antenna (formerly used by Kathy VE6HI, SK) are sending signals 3 times per hour on the 80, 40, 20, 15 and 10 metre bands. You can do a search for VE6OG here and view the map of signal paths in real time or a table of spots. Thanks to the Abbott family and the QCARC for their assistance with this project. Les was an avid WSPR user and he would be proud of this legacy.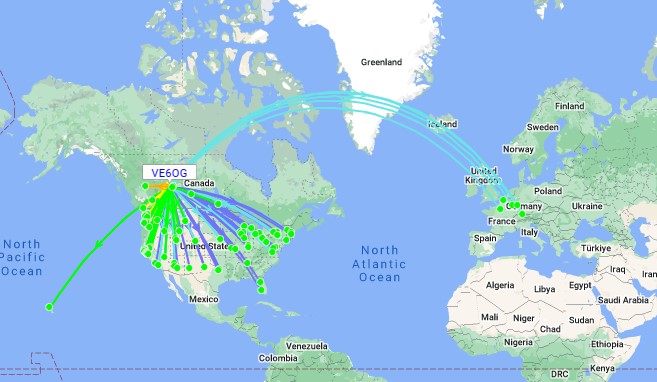 There is a VARA FM WIDE Winlink RMS, VE6HM-11 on 145.090 MHz at the VE6HM repeater site in east Edmonton. There also is a digipeater, VE6MM-1 north of Edmonton available on that frequency that can be used to connect to VE6HM-11 if needed.

Winlink Wednesday UPDATE

Links to information about Winlink are on the website WCAR.CA
Checkins to the Alberta and Eastern Canada Winlink Wednesday nets can be sent via Winlink to Bill VA6RQ and Bryan VY2OG.
Information on how to check in to the USA Winlink Wednesday is at Original Winlink Wednesday
The Alberta Weak Signal Net takes place every Sunday at 10:00AM and 8:00PM Mountain on 144.200 USB. Net control is Bob, VA6ZO in Red Deer.
The Okanagan SSB net is Tuesdays 7:30 PM Pacific on 144.200 USB. The Okanagan bunch also ragchews on Fridays at 7:00PM Pacific 144.200 USB

SATURDAY MORNING COFFEE GATHERINGS STARTING AROUND 9AM
LEDUC COMMON RICKY'S ALL DAY GRILL
WEST END PAT & MIKE'S RESTAURANT
A&W 109 STREET & KINGSWAY AVE
NEW!!

F

ORT SASKATCHEWAN COFFEE IS NOW AT PIONEER HOUSE NEAR CITY HALL AT 10102-100 AVE IN FORT SASKATCHEWAN



THE WHITECOURT GROUP HAS LUNCH ON THE 2ND SUNDAY OF EVERY MONTH AT NOON AT THE A&W ON HIGHWAY 43 IN WHITECOURT



EZNEC Antenna Software by W7EL is now free. Grab a free copy of EZNEC - Ray is making it available as he has retired.
The newest version, EZNEC Pro/2+ v. 7.0, is available as of Jan 14, 2022 Here is the link: EZNEC Antenna Software by W7EL
The current edition of the Surrey Amateur Radio Club Newsletter is available at The Communicator Digital Edition: SARC January-February 2023 Communicator Amateur Radio Journal (ve7sar.blogspot.com)
OTHER CLUBS AROUND THE WESTERN PROVINCES
SOUTHERN ALBERTA REPEATER ASSOCIATION (saralink.ca)
SASK ALTA RADIO CLUB Sask Alta Radio Club (saskaltarc.ca)
NORTHERN ALBERTA RADIO CLUB The Northern Alberta Radio Club (narc.net)
NORTH CENTRAL ALBERTA AMATEUR RADIO CLUB North Central Alberta Amateur Radio Club - (ncaarc.ca)
AMATEUR RADIO EMERGENCY SERVICES EDMONTON ARES Edmonton and Area – Amateur Radio Emergency Service
CENTRAL ALBERTA AMATEUR RADIO CLUB CAARC « Central Alberta Amateur Radio Club
FORT SASKATCHEWAN AMATEUR RADIO CLUB www.fsarc.com
PEACE COUNTRY AMATEUR RADIO CLUB Peace Country Amateur Radio Club | VE6ARC
CALGARY AMATEUR RADIO ASSOCIATION (caraham.org)

FOOTHILLS AMATEUR RADIO SOCIETY Foothills Amateur Radio Society (fars.ca)
COLD LAKE AMATEUR RADIO SOCIETY CLARS - HAM (clares.ca)
MEDICINE HAT AMATEUR RADIO CLUB (mharc.ca)
SOUTHERN ALBERTA AMATEUR RADIO CLUB Southern Alberta Amateur Radio Club (saarc.ca)
CALGARY COMMUNICATIONS CLUB https://ccc.myrac.ca/

QUARTER CENTURY WIRELESS ASSOCIATION WILD ROSE CHAPTER 151 http://nicholasjanzen.ca/qcwa-chapter151/index.html

BATTLE RIVER AMATEUR RADIO ASSOCIATION VA6RQ@RAC.CA

NORTH OKANAGAN RADIO AMATEUR CLUB Home - NORAC
ORCHARD CITY AMATEUR RADIO CLUB | The Orchard City Amateur Radio Club (ocarc.ca)
The Northern Alberta Radio Club is in need of a small (6x6) building that was or can be used as a repeater shack at a potential new site. If you have or know of something that is available please contact Mitch, VE6OH ve6oh@narc.net
A presentation about the new RAC Auxillary Communications Service is available at https://www.rac.ca/auxiliary-communications-service-presentation/
SARA CLUB MEMBERSHIP DRIVE
PLEASE SUPPORT THE SOUTHERN ALBERTA REPEATER ASSOCIATION. SARA IS DEDICATED TO PROVIDING THE AMATEUR COMMUNITY IN ALBERTA WITH A RELIABLE NETWORK OF LINKED REPEATERS. MEMBERSHIP INFORMATION AT www.saralink.ca
THE ALBERTA PUBLIC SERVICE NET WEBSITE HAS A LOT OF GREAT INFORMATION INCLUDING THE FOLLOWING:
CHECK IT OUT AT http://www.apsn3700.net/
THE QCARC WCAR 2M NET TAKES PLACE EACH WEDNESDAY AT 8:30 PM ON THE VE6QCR AND VE6PP REPEATERS
WA7BNM Contest Calendar: 12-Month Calendar
Edmonton Area 5 day WX Forecast

Wednesday 2/1 Snow High -13 Low -13

Thursday 2/2 Cloudy High -10 Low -20
Friday 2/3 Periods of snow High 2 Low -9

Saturday 2/4 Sunny High -2 Low -1

Sunday 2/5 Sunny High 3 Low -9

FEBRUARY BIRTHDAYS, ANNIVERSARIES, ETC.

If you or an amateur you know is celebrating something let me know and I will list it here…. mail@qcarc.net

Birthdays


Harvey VE6HLT
Bill VE6ABC
Don VA6DBS
Mark VA6MJJ
Ted VE6KIB
Erna VE6YMA

FUNNY OF THE WEEK


Doctor# 1: "We missed you at the Urology Conference."
Doctor# 2: "I watched the livestream."

DID YOU KNOW?
"I am." is the shortest complete sentence in the English language.
To list something here, please email Paul, VE6UFO at mail@qcarc.net or call/text 780-232-7012
ANOTHER GREAT BUY AND SELL RESOURCE IS HAMSHACK.CA
NEW!! FOR SALE BY BOB VA6ZO IN RED DEER If interested email Bob va6zo@yahoo.com


IC-9700 the latest all mode VHF/UHF rig by ICOM covering 2m, 70cm and 1.2GHz. Comes with manual, hand mic, power cable. This 2 owner rig has the latest version 1.32 firmware and it has had recent service and alignment done at ICOM. Current retail is $2299.99 + tax. Asking $1500.00 plus shipping and insurance.




PRICE REDUCED!! FOR SALE BY DALE VA6OK IN CORONATION If interested email Dale va6ok1@gmail.com
Icom IC-7610 Transceiver in excellent condition. Comes with the stock hand mic, power cable with powerpole connectors, paper manual and CD in-depth manual. Also comes with Icom remote software RS-BA1 Version 2. Does not have the original boxes. Asking $

3550.00

.

FOR SALE BY BILL VA6RQ IN RIBSTONE

If you are interested in Bill's items email him at
va6rq@rac.ca
Used SCS Pactor Modem PTCII-EX with P3 licence. Comes with cables for the Yaesu FT857 (Computer to Radio for CAT control and Radio to TNC) $700.00

New in Box Hygain VB-64DX 4Elm 6M Beam ant for $225.00 Radio World price - $342.00
New in Boxes (2) Cushcraft A148-10S 2m 10El yagi ants $200.00 each Radio World price -$283.00 if you buy both it comes with a used co-phasing harness
USED Hygain Ham III med duty rotator well used (new bearings) $100
QCARC HAS THE FOLLOWING FOR SALE If interested email mail@qcarc.net or call/text Paul VE6UFO at 780-232-7012



Delhi DMX 56 foot tower with bolts. $400.00 OBO

FOR SALE BY ARNOLD VE7IDK IN VERNON Arnold is downsizing and has the following for sale. If interested email ve7idk@telus.net


Military H-189 Handset asking $25.00
Heathkit HW-100 with power supply & speaker, for parts or repair. Untested $100.00
Heathkit SB-614 Station Monitor, working condition $ 100.00 each ( Have Two )
HP-400B VTVM . . . the Cadilac of VTVM . . open to offers
16 ft tall custom machined Center Loaded Vertical Antenna for 40 thru 6 meters Comes complete with all parts and guy ropes & ground radials. Asking $300.00
Fully Self Contained Manpack with FT817, Z11 ProII Autotuner, HVT 400 Antenna, Speaker and High Capacity Gel Cell Battery - Pictures available Asking $875.00
FOR SALE BY AL VA6ALE IN ARDROSSAN If you are interested contact Al at va6ale@aol.com There are photos of the items available on request.

*************************************************************************************
Barker & Williamson Broadband End-Fed Vee Antenna Model AC – 1.8 – 30.
Designed for operation from 1.8 MHz to 30 MHz, the antenna comes fully assembled and pre-tuned so no measuring or cutting is required. Depending upon its configuration, the AC 1.8-30 MHz

End-Fed Vee Series of antennas sell from $1595 USD to $2095 USD, plus taxes & shipping. This is your opportunity to get one at a fantastically discounted price! $1000 CAD obo
*************************************************************************************
Hewlett Packard Model HP AC-60B Bridging Transformer.
At the channel modem level, it can be used for all types of communications audio test work involving telephone, radio, microwave and digital systems. Have 4 available. $25 each
*************************************************************************************
Protective Circuit Test Unit AEM-TE-1424 complete with test leads.
Excerpt from Department of the Army Technical Manual TM 11-5830-240-15 ©1964
This is special equipment for testing and adjusting the protective circuit of the DE-1492C Amplifier. It is normally supplied for depot use only.
$25
*************************************************************************************
Test Unit TS-178/ARM-1 provides means for measuring the various grid currents and voltages necessary for completely testing and aligning Radio Transmitter T-67/ARC-3 and Radio Receiver R-77/ARC-3. $25
*************************************************************************************
Rayovac AN / PRC-77 Magnesium Battery, non-rechargeable. New, still sealed in plastic bag. NSN 6135-00-926-8322. These batteries were packaged around 1990, so their effectiveness cannot be guaranteed. Sold for collectible value only. Have 20+ available. $5 each
*************************************************************************************
Al also still has to give away tin sheets in 2 different sizes 16"x27" and 14"x18" that can be used as 2m ground planes or whatever. They are FREE for the taking.
WANTED BY BLAIR VE6AGH IN LETHBRIDGE - ve6agh@yahoo.ca 403-307-8207

As usual Blair is looking for military radios of any kind but below is a list of some specific items.

Military Sets:
Marconi CP-24, CP-44 or an AT-12 RCA Aircraft Transmitter

Antenna for CP-34
WS-58
Command Set Racks

Let him know what you have.

WANTED MITCH VE6OH IN EDMONTON is looking for a good used 4X4 truck preferably diesel with trailer towing package and an RV around 25 ft. Contact Mitch at 780-446-8958 or email ve6oh@rac.ca

WANTED BY RIC VE7CUP IN HOUSTON remote antenna switches, working or not. If you have any for sale, please email ricmartin@telus.net

BELOW IS OLDER CONTENT THAT YOU HAVE ALREADY SEEN IF THIS IS NOT YOUR FIRST TIME READING THIS NEWSLETTER
Silent Key - Les Abbott, VE6OG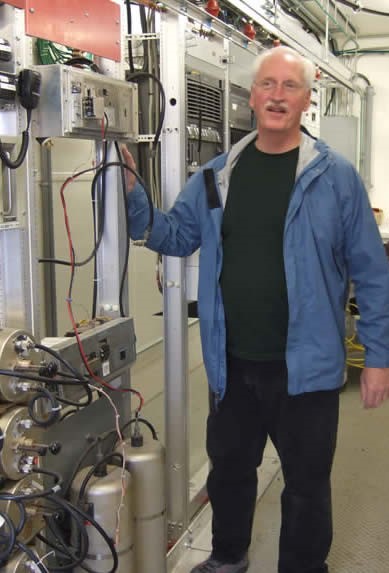 We'll Miss you, Les!

Les Abbott, VE6OG of Edmonton passed away on October 9th, 2022 at the age of 78 years. He was a member of QCARC since the Club's formation in 1985 and he served in many capacities including President, Vice President, webmaster and repeater custodian and always stayed involved even after being made a Lifetime Member in 2017. Les was first licenced as VE3GMU in 1969 and has held VE6OG since moving to Edmonton in 1976. Les loved working on radio equipment and if he couldn't repair it, probably nobody could. After cominhg to Edmonton, Les spent many years working for AGT/Telus. Les was a great guy and he helped a lot of people in the community and in the amateur community as well. There is an obituary at Foster & McGarvey - Edmonton Funeral Homes (fostermcgarvey.com) Sincere sympathies to the Abbott family from the QCARC.

QCARC ANNOUNCEMENTS

JOIN QCARC OR RENEW YOUR MEMBERSHIP BEFORE MARCH 31 AND TO BE ENTERED INTO THE DRAW FOR OUR 250.00 EARLY BIRD CASH PRIZE
QCARC Membership Form Membership dues and donations can be e-transferred to mail@qcarc.net

THANKS VERY MUCH TO ALL THE MEMBERS WHO CONTINUE TO SUPPORT QCARC WITH MEMBERSHIP RENEWALS AND DONATIONS!!

When needed, QCARC helps amateurs or the famly of silent keys with tower work and station dispersals. We can sell your items for you at the flea markets or swap and shop. If you would rather not be bothered trying to sell items you can donate them to QCARC. If you need this type of assistance contact VE6UFO at 780-232-7012 or mail@qcarc.net
Another benefit of being a member is that you can purchase items at MRO Electronic Supply with your proof of QCARC membership. There is a 25.00 minimum.
QCARC SELLS DONATED ITEMS AT FLEA MARKETS TO RAISE MONEY TO OPERATE OUR REPEATERS AND KEEP MEMBERSHIP DUES LOW. IF YOU HAVE ITEMS TO DONATE PLEASE ARRANGE PICKUP WITH PAUL VE6UFO AT mail@qcarc.net OR 780-232-7012. THANKS VERY MUCH TO ANYONE WHO HAS RECENTLY DONATED ITEMS TO THE CLUB.
QCARC has 2 ISED accredited examiners:
Ernie VA6EJR va6ejr@gmail.com
Mitch VE6OH ve6oh@rac.ca

QCARC weekly 2 meter net Wednesday 8:30PM on VE6QCR and VE6PP repeaters. After the net, stations are encouraged to stick around for a fun round table ragchew QSO session.

Do you know of a new ham or a ham getting back into radio after years away from the hobby that needs equipment and/or help getting a station set up? We can help!!! mail@qcarc.net

RAC NEWS
Stephen Lee VA6SGL is the RAC Director for AB NT NU.

If you are not a RAC member, please consider joining as RAC helps protect and advance amateur radio in Canada and around the world. RAC members who are also members of RAC affiliated clubs such as QCARC get special insurance coverage. Details of this coverage are found at https://www.rac.ca/insurance/
MISC. AMATEUR RADIO RESOURCES
The movement of the International Space Station can be tracked in real time at Live Space Station Tracking Map | Spot The Station | NASA
Here is a link to a page on the WCAR website about understanding propogation: https://www.wcar.ca/education/up/

Don VE7DXE in Victoria, BC has established www.hamshack.ca which is a great site with a fully functional buy and sell feature and other new resources being added all the time. Check it out often!!
The Surrey Amateur Radio Club has a great newsletter and the latest edition can be found at www.ve7sar.net
If you are trying to learn Morse code or increase your speed, there is a great YouTube resource. Search for HamradioQRP which will get you to the site. These videos are a terrific help.


Another good resource including solar conditions is https://www.wm7d.net
Here is a link to the RAC Canadian Amateur Radio Band Plan chart
Canadian Amateur Radio Band Plans (rac.ca)
Know someone interested in becoming a radio amateur? Resources for home learning include Hamstudy Basic available through Amazon, and Coax Publications for Basic and Advanced study manuals https://www.coaxpublications.ca/ Further, Cold Lake Amateur Radio Society (CLARS) hosts a training website http://www.clares.ca/va6hal%20training.html for Basic and Advanced. RAC also has an Advanced course available at no cost for members that have a Gold Leaf Membership.

MISC. TECH INFORMATION
A garden hose reel works well for hanging up those rolls of spare coax. They can be found at garage sales for a buck or two.
"QUICK DISCONNECT" mounts are available to easily change resonators for your HF mobile antennas. There are also some good multi-band mobile antennas out there.
Rough running gas powered generator? This problem is often caused by gas with ethanol added. Small engines don't like it so run straight gas or add fuel stabilizer to the tank.
When re-assembling a used yagi or vertical antenna made of aluminum make sure to remove any oxidation at the joints using a ScotchBrite pad or equivalent and use new stainless steel hardware.
Always keep your signal and audio cables as far away from the power cords as possible. If you have them all bunched together, you will have problems one day.
A way to check a long run of coax for loss is to use a dummy load and wattmeter at the radio and at the antenna end of the coax and compare the output readings. If the loss is very low the 2 readings will be very close to the same on either end.
Lay down those radials the easy way! Using a lawn edger for putting down radials!
Do not set an external tuner directly on top of your HF rig or you could have distorted TX audio on some bands. Make a 2 inch separator out of non-conductive material.
If the fan on your power supply or rig comes on a lot, add a small external fan on the back of the unit to help keep things cooler.
Have you ever gotten into your vehicle to find that your battery was dead because you forgot to turn off your mobile radios? Modern rigs have a programmable Auto Power Off (APO) that you can use to make the radio turn itself off after a pre-set period of inactivity.
On vehicles with roof racks, a tiltover mount for your HF mobile antenna can be easily made by attaching the L part of a mirror mount antenna bracket to the roof rack with a single bolt just tight enough that the mount will move by hand 90 degrees as required. For pickup trucks, you can mount the bracket to a pole in the box or on the bumper or trailer hitch. Ensure proper grounding.
To make it easy to see what you are doing when trying to work with connections at the back of all the various pieces of gear on your operating desk, mount a mirror on the wall behind the equipment. I saw this years ago when visiting the station of Dave VE6KD. Great idea, Dave!!
Here is a link to plans for an inexpensive and easy to build 5 band HF Vertical Antenna N5VEG 5 Band HF Vertical "Wonderstick" Antenna (hamuniverse.com)
Directional Finding (Bunny Hunting) Techniques and plans for building a high gain cubical 2 meter quad antenna and sniffer
http://www.qcarc.net/VE6OB%20Bunny%20Hunting%20Article.pdf

Here is a link to plans for an easy to build HF multi band fan dipole MULTI BAND HF FAN DIPOLE ANTENNA DESIGN (hamuniverse.com)
When building a station, it is important to determine the correct coax to use. Transmission line losses must be kept at a minimum to achieve optimum performance.

Here is a link to some coax loss charts. https://www.w4rp.com/ref/coax.html
If you are re-using coax make sure there is good continuity and check it with a wattmeter and dummy load - MOST USED FLEA MARKET COAX IS GOOD FOR THE SELLER, NOT THE BUYER!!

Here is a link to a handy dipole antenna length calculator and various other resources:
Dipole Antenna Length Calculator (everythingrf.com)
Need to find the grid square for your QTH? Try this: Amateur Radio Ham Radio Maidenhead Grid Square Locator Map (levinecentral.com)
Here is a listing of some of the nets and other gatherings that take place regularly:
Daily
There is a lot of activity on the 2 meter simplex frequency 146.490 in Edmonton.

Various 40 and 80 meter ragchew groups take place all morning long from about 7:00AM until 10 or later. Look around the bands for an opportunity to join in on an interesting QSO.
Saskatchewan weather net 8:00AM Sask time 3.753 MHz
Aurora Net 2300 UTC 7.100 MHz
Saskatchewan Net 0100 UTC 3.735 MHz
Alberta Public Service Net 0130 UTC 3.700 MHz
BC Net 0130 UTC 3.729 MHz
160 meter ragchews take place 9:00 PM or later usually on frequencies above 1.890 MHz.
Weekly
Alberta ARES Net Sunday 9:00AM mountain time 3.750 MHz
The Alberta Week Signal Net Sunday 10:00AM and 8:00 PM 144.200 MHz USB
Trans Canada Net Sunday 2:00PM 18:00 UTC 14.140 MHz
Sunday 6PM VE6KM B linked to ref001C is the international DSTAR Net
Sunday Evening Aurora Net 9:30PM Central time 7.100 MHz
Monday 8:00PM on VE6KM B linked to reflector REF016B is the Alberta DSTAR Net
Monday Amateur Radio Information Net 3.729 MHZ right after the BC net about 0230 UTC
NARC weekly 2 meter net Tuesday 7:30PM on VE6HM repeater 147.060 -600
IRLP Trans Canada net Wednesday 9:00AM on VE6HM repeater 147.060 -600
Winlink Wednesday please check out www.wcar.ca for information
Friday 7:00PM on VE6KM B linked to ref001C Canadian Dstar Net
i